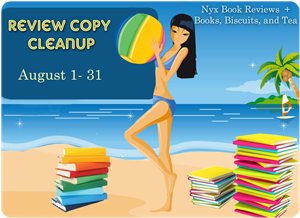 OK, so initially I wasn't going to sign up for this challenge, but I think I was sure I'd be caught up in my review book reading by the time August rolled around. Apparently, that's not the case! So, I'm excited to be participating in another month of the Review Copy Cleanup, hosted by the always lovely Vicki at Books, Biscuits, and Tea and Celine from Nyx Book Reviews.
The challenge runs from August 1st to August 15th and there will be Twitter parties AND readathons!
I'll be posting my progress using the hashtag #RCCleanup, so be sure to follow me @ReadingInWinter to see my updates.
If you want to sign up for the Review Copy Cleanup, you can do so HERE.
What I Plan On Reading
Since it's already August, I'll be reading the books I have to review in August, as well as some September and October releases. These are all books that I requested, not unsolicited or won books, so I'm thinking it's not too bad of a list: 
The Scent of Rain, by Kristin Billerbeck (finishing this one) (pub. Aug. 7)
Sweet Evil, by Wendy Higgins  (book tour stop Aug. 23)
Every Day, by David Levithan (pub. Aug. 28)
The Stone Girl, by Alyssa B. Sheinmel (pub. Aug 28)
Unspoken, by Sarah Rees Brennan (pub. Sept. 11)
Dearly, Beloved, by Lia Habel (pub. Sept. 25)
Who I Kissed, by Janet Gurtler (pub. Oct. 1)
Eve & Adam, by Katherine Applegate and Michael Grant (pub. Oct 2)
Through To You, by Emily Hainsworth (pub. Oct 2)
Little Star, by John A. Lindqvist (pub. Oct 2)
Mystic City, by Theo Lawrence (pub. Oct 9)
Meant to Be, by Lauren Morrill (pub. Nov. 11)
What I Didn't Say, by Keary Taylor (already published)
Beautiful Disaster, by Jamie McGuire (already published)
Pushing the Limits, by Katie McGarry (already published)
Audrey's Guide to Witchcraft, by Jody Gehrman (from author, for review)
Timeless Desire, by Gwyn Cready (from author, for review)
Muse, by Janica Stoff (from author, for review)
Seeing as I read over 20 books this past month, I'd like to say this is totally doable, but we'll see. I get distracted by shiny things. As for the readathons and Twitter parties — I'm already participating in 2 readathons this month, so I probably won't be able to do more, but I'll definitely try. And I'm always up for a good Twitter party!
Are you participating in the Review Copy Cleanup? 
© 2012, Reading In Winter. All rights reserved.